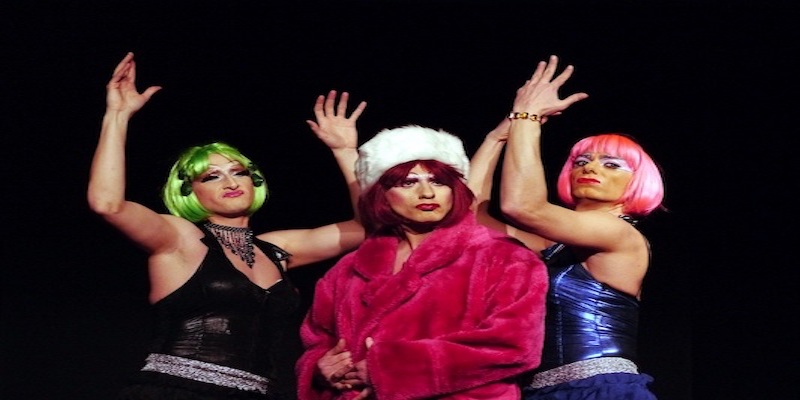 NINA'S RADIO NIGHT on stage / AIDA Project
Overview
                           New appointment for the AIDA Showcase (Adriatic Identity through Development of Arts), a project co-financed by European Union under the Instrument for Pre-Accession Assistance (IPA II) Interreg IPA - CBC Italy - Albania - Montenegro
                 Saturday 24 July at 9.00 pm on stage Nina's Drag Queens with NINA's RADIO NIGHT, the first show created by the company. A light-hearted and futuristic adventure that brings together variety numbers and theatrical structure, 1970s science fiction, soap opera, espionage and mystery, impossible interviews and unforgettable songs.
We are in 2222 and radios no longer exist for centuries. Communication passes through other channels and the dictatorship of the image has reduced all frequencies to silence.
A group of courageous DJs, in love with that forgotten instrument, challenge the times and the terrible threat of an Orwellian anti-radio police, picking up and broadcasting soundtracks from the past, which still sail in the ether. And in order not to be discovered you need an idea: to disguise the clandestine broadcast as a theatrical show!
Supported by the generosity of a faceless philanthropist - the mysterious Aristide Priscilla - among finds of all kinds and modern reinterpretations of the old classics of what was once radio, our nostalgic and rebellious presenters will guide the public to rediscover the ancient charm of imagination.
Desirée, Demetra, Donata and Dora are here grappling with the most romantic of Nina's adventures. Wrapped in an atmosphere in black and white, they will be the voice and body of the divine of the past, wise narrators of lost worlds, interpreters of forgotten masterpieces, in a succession of twists and highlights, heartbeats and blinks of eyelashes, until you reach a surprise ending.
A project, AIDA, which considers the entire program area (Italy, Albania and Montenegro) from a single point of view, highlighting the common elements that exist between citizens and communities of reference. The pilot cities of Lecce, Campobasso, Tirana and Ulcinj, put together with the aim of forming a cross-border network of communities in the Adriatic area, will be animated by showcases and artistic activities with the aim of bringing them closer to the community. AIDA wants to stimulate comparison and cooperation between citizens, artists and public bodies through an inclusive and transnational approach, which can activate a direct comparison with different realities and cultures within the pilot area. All the areas affected by the activities are connected to each other and have a national history that in some moments is intertwined with that of the other countries involved.
NINA'S RADIO NIGHT
a Nina's Drag Queens show
by and with Alessio Calciolari, Gianluca Di Lauro, Lorenzo Piccolo, Ulisse Romanò
lighting design Luna Mariotti Pietro Paroletti costumes Federica Ponissi and Giada Masi assistant director Marta Erica Arosio artistic supervision Francesco Micheli
production Aparte Società Cooperativa
FREE ENTRANCE WITH RESERVATION REQUIRED
INFO: Cantieri teatrali Koreja, via Guido Dorso, 48/50
tel. 0832-242000 - www.teatrokoreja.it